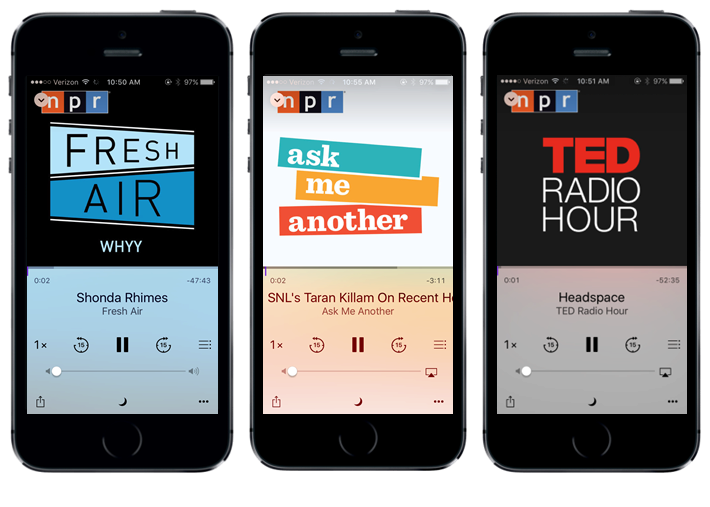 Top Titles. Top Audience.
NPR Podcasts – staples such as Planet Money and Wait Wait… Don't Tell Me! as well as new hits including Invisibilia and Embedded – hold an essential corner on the market and a close connection with the audience. An audience who shares their engagement and affection for the programs with brands that support them.
NPR delivers podcasts to 8.8 million users each month, a growing audience that tops Podtrac's new Podcast Audience Ranker as the largest in the industry. With new shows set to further expand NPR's diverse podcast catalogue and innovative, cross-platform opportunities for sponsors, NPR is a leader in this ever-important industry.
Source: Podtrac, February 2017
An Enviable Audience
Educated, affluent and younger, NPR podcast listeners are listening all the time. 79% say they listen within 48 hours of downloading an NPR podcast.
62%
of NPR podcast users are age 25-44
85%
count NPR podcasts among their favorites or consider them "essential listening"*
93%
typically consume most or all of a public radio podcast*
86%
hold a Bachelor's degree or higher
58%
earn $75,000 or more in HHI
49%
are involved in business purchasing decisions
30%
hold executive or managerial positions
82%
hold a more positive opinion of a company when they find out it supports NPR
57%
pay more attention to NPR podcast sponsor messages than they do to ads in other media or places
82%
have taken action in response to a sponsorship announcement in an NPR podcast
Source: NPR Podcast User Surveys, Spring 2016.
Nuts and Bolts of Sponsorship
NPR podcasts offer sponsors :30 mid-roll and :15 pre-roll in popular podcast titles. Host-read mid-roll spots allow for expanded messaging and align with the tone of individual NPR podcasts.
Mid-roll Sponsorship (:30)
Pre-roll Sponsorship (:15)
It's hard to stray very far in the podcasting world without stumbling upon a programme by NPR.

The Telegraph
NPR... produces expertly done shows that are available in podcast form, and it often dominates the genre.

The New Yorker
Podcasts are becoming (or already are) the way millennials listen to the radio.

PolicyMic
Insightful & Entertaining
It's no wonder 48% of NPR podcast users consider NPR podcasts "favorites" compared to podcasts overall. NPR podcasts offer substance and serendipity.